Blog: L'Oréal Blondifier - Producten om blond en geblondeerd haar perfect te houden!
Het is al meer dan 100 jaar geleden sinds L'Oréal Professionnel met de eerste veilige haarkleurig op de markt kwam. Sindsdien zijn ze nooit gestopt met innoveren. Ze worden niet alleen als de nummer één in Color gezien, maar ook in Color Care. Speciaal daarom heeft L'Oréal Série Expert Blondifier uitgebracht.
L'Oréal's Blondifier is ontworpen om elk type blond te voeden, perfectioneren en glans te geven. Het haar voelt zich als herboren en zal stralen!
Met de komst van Blondifier worden de Shine Blonde Shampoo en volledige Lumino Contract lijn vervangen.
L'Oréal Blondifier Producten
Deze onmisbare lijn voor blondines bestaat uit de volgende 5 producten:
De Blondifier ingrediënten
We hebben de verpakkingen van L'Oréal Blondifier eens naast elkaar gelegd, de ingrediëntenlijsten vergeleken en daaruit bleek dat er 3 ingrediënten terugkomen in elk product:
Euterpe Oleracea Fruit Extract
2-Oleamido-1,3-Octadecanediol
Maltodextrin
L'Oréal kon helaas geen uitleg geven over de 3 ingrediënten, dus hebben we zelf wat onderzoek gedaan. Mochten we verkeerde conclusies hebben getrokken volgens jou, dan horen we dat natuurlijk graag!
Euterpe Oleracea Fruit Extract is beter herkenbaar als extract van de açai bes. Zoals de verpakking omschrijft, zijn het de polyfenolen uit dit extract die je blonde haar ten goede komen. Maar wat zijn polyfenolen? Volgens Voedingscentrum zijn dit stoffen die de gezondheid kunnen verbeteren, maar die je niet per se nodig hebt. Ze zijn afkomstig uit groenten, fruit, noten en nog meer soorten voeding en staan vooral bekendheid om hun antioxidatieve eigenschappen.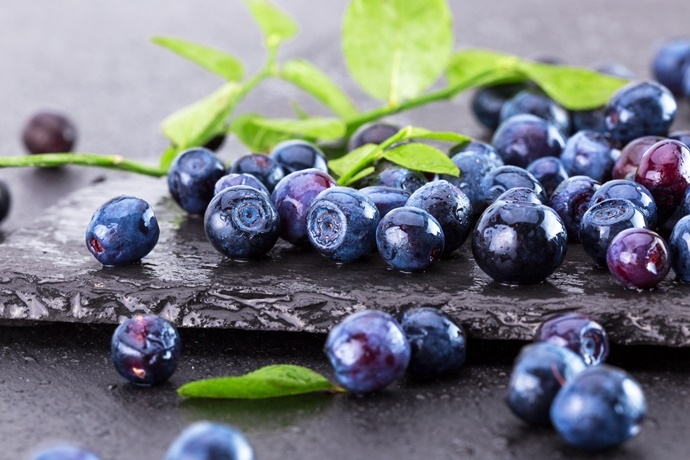 Maar oké. Dit betreft voeding... Je eet een shampoo, conditioner of haarmasker met polyfenolen niet op toch? Hoe werkt dit dan bij uitwendig gebruik?
Het enige wetenschappelijke onderzoek dat wij konden vinden waaruit blijkt dat Euterpe Oleracea Fruit Extract zou kunnen bijdragen als antioxidant en haarhersteller, is dit onderzoek Photoprotective Effects of a Multifunctional Hair Care Formulation Containing Botanical Extracts, Vitamins, and UV Filters.
2-Oleamido-1,3-Octadecanediol is een synthetische ceramide. Als je haar chemisch wordt behandeld (zoals blonderen), dan beschadigd het oppervlak snel en verdwijnen of verminderen de oliën (ofwel ceramides) die in je haar zitten. Door ceramides in haarproducten te stoppen, kun je dit weer aanvullen. Dit maakt het oppervlak weer soepel en kunnen haarschubben weer beter werken (zie het als een roestend, stroef scharnier versus een geolied scharnier).
Wat we hier lezen is dat synthetische ceramiden veelal hoger geconcentreerd zijn en dus sneller worden opgenomen door het haar. 2-Oleamido-1,3-Octadecanediol is dus sowieso een goede toevoeging in het product voor als je geblondeerd haar hebt :).
Maltodextrin is een poeder dat wordt gewonnen uit maïs. In voeding wordt het vaak als bindingsmiddel gebruikt, maar in haarverzorging heeft Maltodextrin een verdikkende werking (bron: EWG). Het legt als het ware een laagje om elk afzonderlijke haar, waardoor de diameter wordt vergroot. Zo ziet je haar er dus voller uit!
Ofwel:
De polyfenolen uit het açai bes extract zouden dus moeten bijdragen aan het herstel van je haar en het als antioxidant beschermen. 2-Oleamido-1,3-Octadecanediol dient als conditioning agent om het haaroppervlak te herstellen en gladder te maken. Maltodextrin zorgt dat je blonde haar wat voller wordt.
Bevatten alle Blondifier producten paars pigment?
Nee. Alleen de Cool Shampoo bevat het synthetische pigment "CI 60730 / Acid Violet 43". Deze geeft een Cool Shampoo een paarse kleur. De rest is doorzichtig of wit. Wél bevat de Gloss Shampoo de pigmenten "CI 19140 / Yellow 5" en "CI 14700 / Red 4". We verwachten dat deze zijn toegevoegd om de warme kleur van highlights te benadrukken.
L'Oréal Blondifier Reviews & Ervaringen
Hieronder vind je enkele bloggers die een L'Oréal Blondifier review hebben geschreven:
In deze blogs delen ze hun L'Oréal Blondifier ervaringen met je.
Naarmate de tijd vordert zullen er ook meer reviews bij de L'Oréal Blondifier producten in de webshop komen.
Uiteraard kun je ook jouw L'Oréal Blondifier ervaring delen in een reactie bij dit blog!
Oké. Ik ben een blondine. Wat moet ik gebruiken?
Nu Blondifier zijn entree heeft gemaakt zijn er meerdere producten die je kunt gebruiken bij wit, grijs en blond haar. Hieronder vind je een handig overzicht waarin wordt geadviseerd bij welke haarkleur en voor welk effect je een bepaald L'Oréal product moet gebruiken: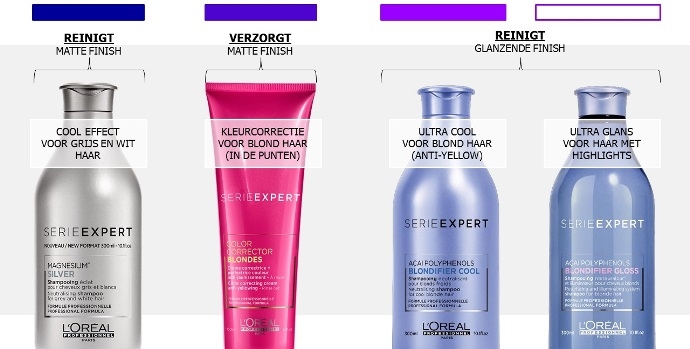 Ofwel:
De Blondifier Conditioner, het Masker en de Bestie onderscheiden zich vooral door de verzorgende werking. Hierbij is de conditioner voor dun tot normaal haar en het masker beter geschikt voor normaal tot dik haar. Uiteraard kun je het masker als wekelijkse treatment gebruiken als je dunne tot normale haar wat meer beschadigd is.
Nu ben jij aan de beurt!
Heb jij vragen over L'Oréal Blondifier, opmerkingen of eigen ervaringen? Deel ze dan gerust in de reacties! Wij zullen zelf vragen proberen te beantwoorden en andere bezoekers mogen dat natuurlijk ook :).