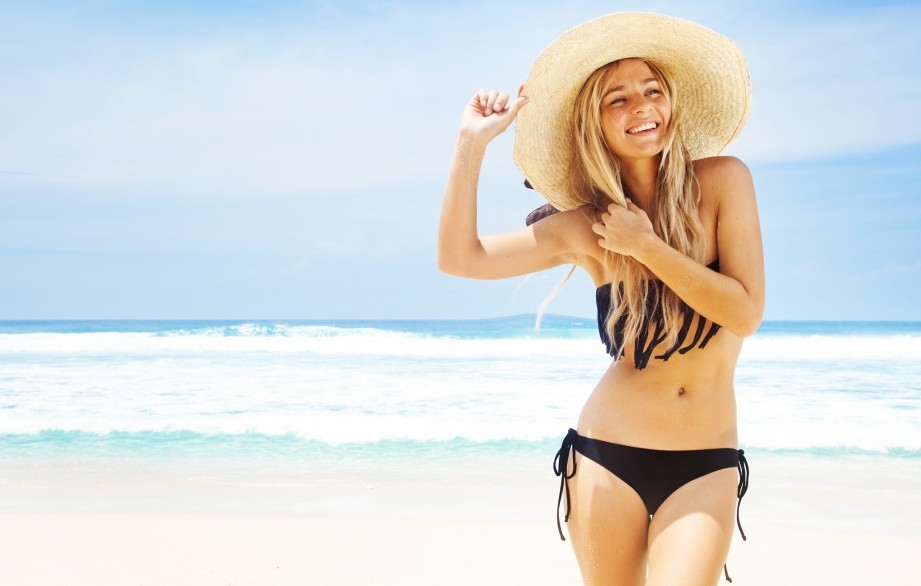 De zomer staat weer voor de deur en daarmee waarschijnlijk ook je vakantie.
Het is een heerlijk vooruitzicht, toch? Vrije dagen waar alles mag en niets moet. Heerlijk ontspannen en relaxen.
Lekker zonnen op witte stranden, verkoeling zoeken in de blauwe zee, een sportieve duik nemen in het royaal vormgegeven zwembad of in een mooie, mediterraanse stad rondwandelen.
Ideaal om in de zomer te doen, maar dit zijn wel stuk voor stuk momenten waar je haar wordt blootgesteld aan de zon, zeewater en/of zwembadwater. En de zonnestralen, het zout en het chloor kunnen je haar helaas verkleuren en uitdrogen. Zo verlicht UV-straling de pigmenten in je haar, onttrekt zout het vocht uit je haar en geeft chloor een agressieve reiniging waardoor het natuurlijke talg op je hoofdhuid wordt verwijderd.
En het uitdrogen kan de volgende negatieve gevolgen hebben:
Je haar kan gaan splijten.
Je haar kan afbreken.
Je haar kan pluizig worden.
Je haar kan beschadigen.
In dit blog geven we je 6 eenvoudige tips om je haar te beschermen tegen zon, zee en zwembadwater. Dit zodat je met een gerust hart op vakantie kunt en optimaal kunt genieten!
1. Vermijd chemische behandelingen
Vermijd chemische behandelingen in je haar, zoals permanent, straightenen en haarkleuringen. Tijdens dergelijke behandelingen krijgt je haar het zwaar te verduren. Je haar zou lichtjes kunnen beschadigen en wordt vaak gewoon droog. En in normale omstandigheden is dit meestal geen probleem. Maar in de zomer is droog haar echt niet bestand tegen de zon, zout en chloor. Biedt je haar dus preventief bescherming tegen zon, zout en chloor door dergelijke behandelingen uit te stellen tot na de zomer.
Wil je toch krullen, volume of steil haar via omvorming of je haar laten verven? Laat dit dan alleen door een professional doen, en doe het niet zelf! Zij kunnen je haarconditie namelijk het beste inschatten en eventueel aanvullend advies geven!
2. Spoel je haar vóór en ná het zwemmen met kraanwater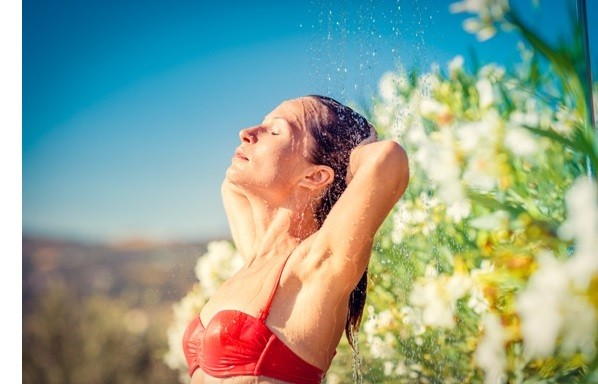 Als je een duik wil nemen, zorg dan dat je eerst je haar goed nat maakt met kraanwater. Doordat er 'schoon' water in je haar zit, slagen zout, chloor en mineralen er minder goed in om je haar binnen te dringen.
Helaas gaan deze stoffen tijdens het zwemmen alsnog tussen je haren zitten. Daarom is goed uitspoelen na het zwemmen ook een aanrader.
Overigens zit er in veel 'vakantielanden' ook chloor in kraanwater, maar dat is nooit zoveel als in zwembadwater. Voor- en uitspoelen met kraanwater is daar alsnog beter dan het niet doen.
3. Minimaliseer blootstelling van je haar aan zwembad- en zeewater
Het zout in zeewater en met name chloor in zwembadwater zijn funest voor je haar. Het maakt je haar droog en kan zelfs geblondeerd haar groen maken. Maar hier geldt: je mag best het water in. Kijk alleen of je de blootstelling aan het water kunt verminderen, om zo je haar te beschermen tegen chloor en zout:
Draag je (lange) haar in een knotje, zodat het tijdens het zwemmen boven het wateroppervlak blijft.
Probeer simpelweg de verleiding te weerstaan om kopje onder te gaan. Spoel je gezicht liever later af onder de douche.
Breng voordat je gaat zwemmen een conditioner aan in je haar. Deze sluit de haarschubben (dat maakt je haar ook zo glad), waardoor zout, chloor en mineralen niet of minder goed in je haar kunnen trekken.
4. Minimaliseer blootstelling van je haar aan de zon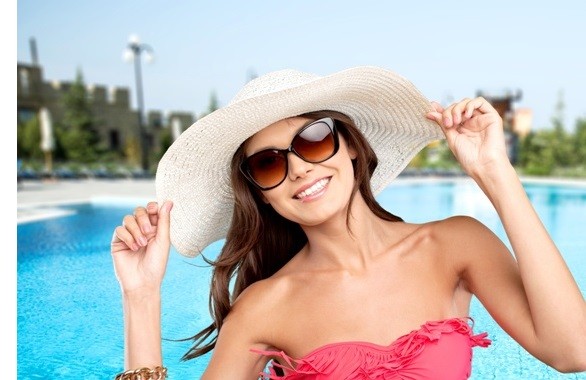 De warmte van de zon kan je haar uitdrogen, beschadigen en zelfs (lichter) verkleuren. Om nu te zeggen, "Ik vermijd de zon wel", dat hoeft nu ook weer niet. Zonbescherming voor je haar is essentieel, maar is ook te behalen door blootstelling van je haar aan de zon te minimaliseren:
Draag een hoed(je) of sjaal over je haar, die de zon ervan weerhoudt contact met je haar te maken.
Draag je haar in een vlecht, staart of steek het op. Het haaroppervlak dat zo aan de zon wordt blootgesteld wordt aanzienlijk kleiner.
5. Verzorg je haar van binnenuit: let op je eetpatroon!
Een voor de hand liggend, maar vaak vergeten verzorgingsmethode voor je haar is je eetpatroon. Via voedsel kun je immers vocht, vitaminen, eiwitten en andere belangrijke ingrediënten in je lichaam helpen. En je haar profiteert daar ook van! In het kort:
Drink voldoende, bij voorkeur 1,5 tot 2 liter per dag.
Eet dagelijks zuivelproducten voor proteïnen.
Eet dagelijks vlees, vis en groenten voor mineralen.
Eet dagelijks groente en fruit voor vitaminen.
Door je voedingspatroon aan te passen met bovenstaande, verzorg je je haar op eenvoudige wijze van binnenuit. En dat maakt je haar beter bestand tegen invloeden van buitenaf, zoals de zon, zout en chloor.
6. Gebruik haarproducten tegen de zon, zeewater en zwembadwater!
Het klinkt misschien cliché, maar in de zomerperiode is het zaak dat je je haar extra verzorgt en beschermt. Dit kun je doen met speciale shampoos, conditioners, haarmaskers, leave-in conditioners en leave-in sprays voor in de zomer. Dergelijke haarproducten gebruik je vaak voordat je gaat zonnen of zwemmen (preventief) en erna (verzorgend).
Wat zit er dan in deze producten dat ze geschikt maakt voor de zomer?
Ze bevatten vaak UV-Filters en beschermen je haar tegen UV-Straling. Overmatige UV-Straling verbleekt je natuurlijke en geverfde haarkleur (En dan hebben we het nog niet over wat het met je huid doet!).
Ze bevatten vaak oliën voeden én glans geven.
Ze bevatten vaak anti-oxidanten die de cellen van je haar herstellen en beschermen.
Ze bevatten vaak stoffen als glycerine, die vocht uit de omgeving aan zich bindt en zo het haar hydrateert. Sommige stoffen leggen alleen een laagje over de haarschacht, zodat er geen vocht uit (en in) kan. Dit houdt het vochtgehalte van je haar in balans.
Ze bevatten vaak siliconen, die waterafstotend werken en dus zout, chloor en mineralen ook afstoten.
Hieronder vind je enkele populaire haarproducten tegen de zon:
Slotwoord
Misschien schrikt bovenstaande je af om überhaupt op vakantie te gaan. Dat hoeft echt niet. Als je:
Ervoor zorgt dat je haar niet onnodig veel in de zon, zee- en zwembadwater komt;
Je haar goed verzorgt en beschermt met haarproducten voor zon, zout en chloor

;

En de praktische tips uit dit blog mee op vakantie neemt...
Dan kun je gewoon van de zomer genieten!
Heb je nog vragen over hoe je je haar het beste kunt beschermen tegen de zon of specifiek over onze zonbeschermende haarproducten? Neem dan gerust contact op met onze klantenservice via 026-3210966 of via klantenservice@haarshop.nl.