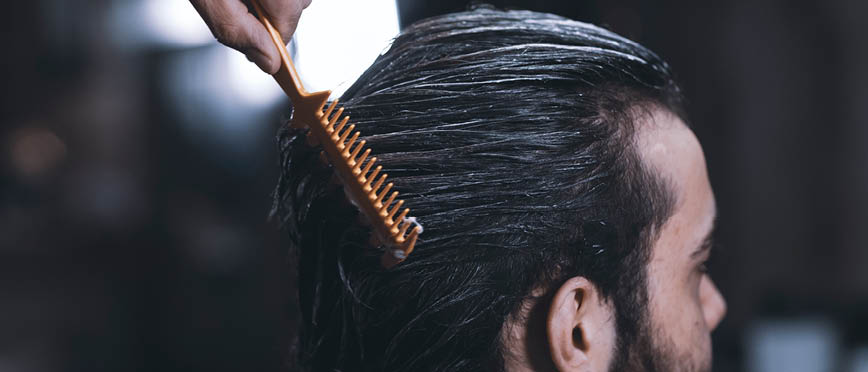 Hoe kom je erachter dat jij last hebt van overmatig haaruitval? In de blog zetten wij de meest voorkomende tekenen van dunner wordend haar en permanent haarverlies op een rijtje. Daarnaast lees je wat jij moet doen om dit te verminderen en tegen te gaan!
Haaruitval
Iedereen verliest zo'n 100 haren per dag. Vrouwen verliezen meer haar dan mannen. Vaak voel je eerst dat je meer haren dan normaal verliest voordat je het ziet. Dit kun je als vrouw zijnde bijvoorbeeld merken aan dat je jouw elastiek vaker om je staart heen kan dan voorheen. Het is normaal haren te verliezen als je met je hand door je haar gaat. Maak je geen zorgen als je haar in je borstel en op de grond vind. Maar als je echt plukken haar in je handen hebt of er 's ochtends veel haar op je kussen ligt, kan dit een teken van overmatig haarverlies zijn.
De meeste mensen krijgen te maken met een vorm van haarverlies als ze ouder worden. Ongeveer de helft van alle mannen ouder dan 50 jaar krijgt last van haaruitval. Om dit tegen te gaan is het handig om preventief actie te ondernemen.
Zichtbare hoofdhuid en terugtrekkende haarlijn
Je begint steeds vaker te zien dat je hoofdhuid door je haren zichtbaar is. Of je wordt er door naasten op aan gesproken dat ze jouw hoofdhuid steeds vaker zien. Ook kan het zijn dat je een teruglopende haarlijn krijgt (inhammen die groter worden). Dit zijn één van de eerste tekeken dat je last hebt van dunner wordend haar of haaruitval. Een reden om actie te ondernemen! Hergroei van het haar is vrijwel onmogelijk maar het remmen/stabiliseren van dunner wordend haar is wel goed mogelijk.
Slechte/jeukende hoofdhuid
Een gezonde hoofdhuid is belangrijk voor de groei van het haar. Mocht je een droge of jeukende hoofdhuid hebben is het verstandig om een speciale shampoo/conditioner te gebruiken voor een gezonde hoofdhuid. Mocht dit niet helpen dan is het verstandig om langs te gaan bij een dermatoloog. Het kan namelijk ook een teken zijn van ander huidaandoeningen zoals dematitis en psoriasis.
Bredere scheiding
Een goede check om te zien of jij last hebt van haaruitval is om je scheiding in de gaten te houden. Wanneer je last van haaruitval hebt zul je een bredere scheiding krijgen!
Haaruitval tegen gaan
Heb jij last van haaruitval of dunner wordend haar? Of wil je het preventief tegen gaan? Dan zijn de haargroei producten van Neofollics de oplossing! Je kunt het beste alle producten in combinatie met elkaar gebruiken voor het optimale resultaat:
Heb jij naar aanleiding van de blog nog vragen? Neem dan contact op met onze klantenservice via info@haarshop.nl. Volg ons op Instagram of Facebook voor meer inspiratie.