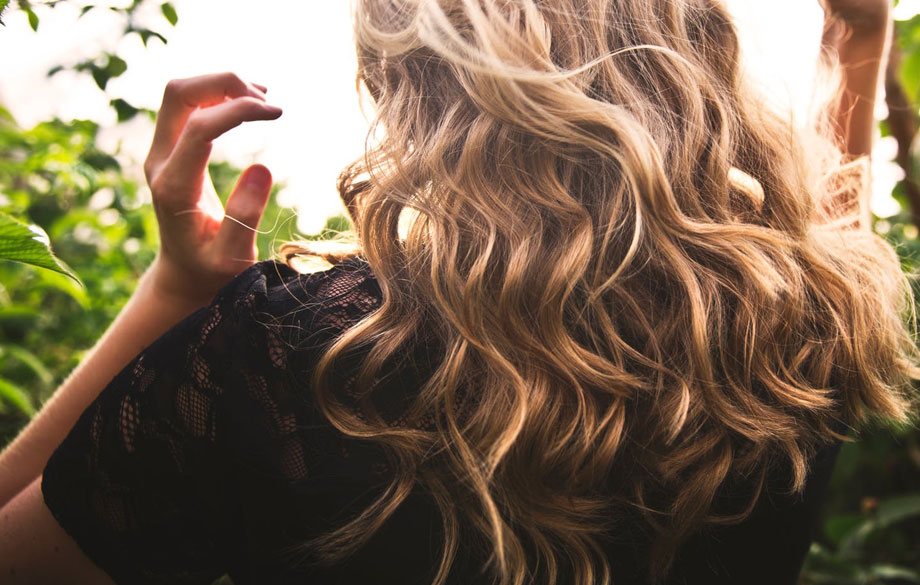 Op het verlanglijstje van iedere vrouw staat toch wel een volle bos haar met veel volume. Helaas is niet iedereen gezegend met veel en dik haar, toch zijn er diverse oplossingen en tips om binnen een handomdraai tóch dat zelfde effect te creëren! In dit blog vertel ik je alles over wat futloos en droog haar precies is, welke producten jouw futloze haar meer volume geven én wat het haar voller laat lijken.
1. Wat veroorzaakt slap en futloos haar?
- Erfelijk
Over het algemeen is de dichtheid of dikte van je haar erfelijk bepaald. Wanneer je vader of moeder ook futloos of weinig haar heeft dan is de kans erg groot dat jij dit ook krijgt. Helaas is hier weinig aan te doen, je kunt immers niet meer haren creëren dan de haren die je hebt.
- Gebrek aan vitaminen en mineralen
Voor mooi vol en gezond haar is een flinke dosis aan vitaminen en mineralen nodig. Bij een tekort aan vitaminen is het gevolg dat het haar broos, futloos en breekbaar wordt met in het uiterste geval meer haaruitval.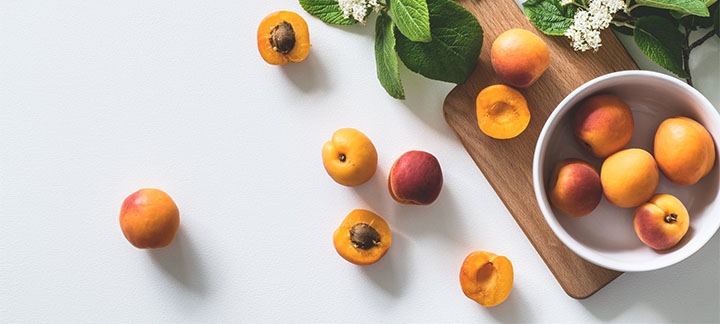 Bij een tekort aan vitamine B12 merk je dat het haar vroeger pigment zal verliezen en grijs wordt, en een tekort aan vitamine C kan het haar droog en erg dof maken. Door meer vitamines zoals vitamine A, B, D en E tot je te nemen, en mineralen zoals zink, koper, selenium en magnesium, herstel je de waardes van het haar en zeg je gedag tegen futloos haar!
- Het weer
Niets is zo veranderlijk als het weer in Nederland. Al die temperatuurwisselingen en verschil in neerslag zijn nooit echt goed voor je haar. In de zomer droogt het haar uit door de zon en chloorwater. In de winter krijgt je haar het zwaar te voorduren met koude temperaturen buiten, en droge warme lucht binnen. Hier kun je uiteraard niets aan doen.
- Hormoonhuishouding, stress en medicijnen.
Je gezondheid is een essentiële factor wat betreft het haar. Wanneer je hormoonhuishouding verandert, merk je dat vrijwel direct aan je haar. Zo kan het erg droog en breekbaar worden, en kan zelfs de structuur van het haar een verandering doormaken waardoor het futloos oogt.
Wanneer je onder stress staat verhoogt de adrenaline in je lichaam en kan haaruitval verergeren. Door stress is de doorbloeding van de hoofdhuid beperkt waardoor adrenaline minder goed afgebroken wordt. Wanneer adrenaline dan in aanraking komt met talgklieren wordt er melkzuur geproduceerd. Melkzuur is slecht voor de haargroei omdat het de haarwortels beschadigd, waardoor je haar dunner en slapper wordt, en het haar minder lang kan vasthouden in de haarzakjes.
Bij gebruik van medicatie kan haaruitval of futloos haar een bijwerking zijn. Als je de bijsluiter van een medicijn leest, kun je zien of dunner wordend haar een bijwerking is. Dat hoeft natuurlijk niet te betekenen dat je bij gebruik van de medicatie zeker weten te maken krijgt met haaruitval. De meest bekende medicijnen die haaruitval of slapper haar veroorzaken zijn onder meer antidepressiva, bloedverdunners, de anticonceptiepil en schildklier medicijnen.
- De verkeerde verzorgingsproducten.
Het gebruik van de verkeerde shampoo of conditioner kan een serieuze oorzaak zijn van dunner wordend haar en slap, futloos haar. De oorzaak hiervan ligt aan de combinatie van het doel van de producten en de conditie van de hoofdhuid. Heb je bijvoorbeeld last van een droge hoofdhuid maar heb je wel vet haar en je kiest voor een diep reinigende shampoo, dan kan het je hoofdhuid heel erg aantasten waardoor haarzakjes stuk gaan of verstikken.
2. Producten die futloos en slap haar tegen gaan.
Het Volumifique-assortiment van Kérastase is ontworpen voor fijn tot normaal haar en biedt lichtgewicht volume. Haaraanzetten worden verhoogd, de structuur van het haar wordt opnieuw sterker gemaakt en de volume in het haar kan eindeloos worden gemodelleerd en gestyled.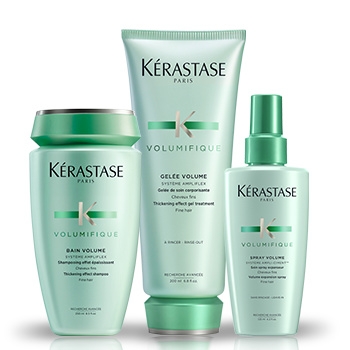 Door het Kérastase Volumifique ritueel te volgen maak je licht verzwakt, fijn en futloos haar weer sterker, zodat het minder snel breekt en een veerkrachtige body krijgt!
Je begint het ritueel met deze Kérastase volume shampoo: de Bain Volumifique! Met de shampoo was je je haar onder de douche op verantwoorde wijze en verzwaar je je haar niet. Maar dat is niet alles. Dankzij het toegevoegde Ampliflex System draagt de volume shampoo ook bij aan meer volume!
Je sluit het ritueel af met de Kérastase Résistance Gelée Volumifique. Het is een volume Conditioner voor fijn haar. De conditioner heeft een verdikkend effect, wat luchtig aanvoelt maar zorgt voor zichtbaar volumineus, vol haar.
De conditioner bevat het Ampliflex System, Intra-Cylane en Stylight Texture voor zacht, pluisvrij haar. Het haar wordt makkelijker ontwart en beter handelbaar met een prachtige glans.
3. De beste kapsels voor dun en futloos haar.
- Kort haar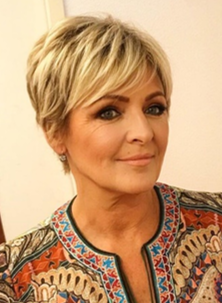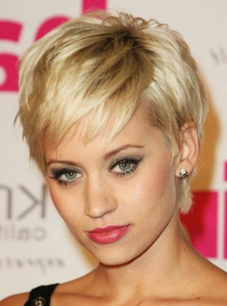 Je futloze kapsel heeft er baat bij als je er eens flink de schaar in zet. Kort haar is veel minder kwetsbaar dan lang haar. Door kortere lengtes in het haar te knippen laat je het haar er voller uit zien!
- Halflang haar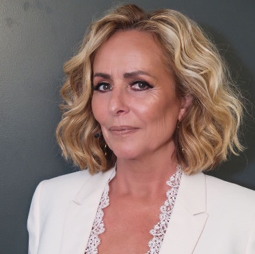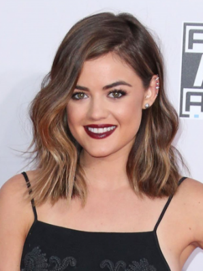 Wanneer je een boblijn te rigoureus vind, ga dan voor een 'lob'. Een lob is een lange bob die aan de voorkant langer is dan in de nekpartij waardoor futloos haar veel voller lijkt. Door er lagen in te laten knippen kun je er veel volume in creëren met styling.
- Lang haar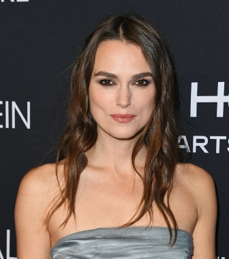 Hoe langer het haar is, hoe moeilijker het wordt om het haar voller doen laten lijken. Mocht je geen afstand kunnen doen van je lange lokken kun je ervoor kiezen het in lagen te knippen. Laat er dan niet te korte, en te veel lagen in knippen want hoe meer eraf gaat, hoe minder haar je natuurlijk over houd. Kies hierbij ook voor een diepe zijscheiding, en draag het naar de kant die het minst natuurlijk valt. Zo zit je coupe veel luchtiger en heeft het meer volume.
4. Styling tips voor futloos haar.
- Droogshampoo
Droogshampoo is de afgelopen jaren een echte musthave geworden voor iedere vrouw en zelfs de mannen maken er tegenwoordig gebruik van! De hoofdfunctie van een droogshampoo is uiteraard vettigheid absorberen en een frisse geur achterlaten waardoor je je wasbeurt net even 1 a 2 dagen kunt uitstellen. Maar het kan ook zeker goed gebruikt worden om futloos haar een volume boost te geven!
Voor degenen die nog nooit een droogshampoo gebruikt hebben: droogshampoo gebruik je alleen op droog haar. Met een afstand van ongeveer 20cm spray je het goedje van onderaf aan de haaraanzet en eventuele lengtes. De stugheid geeft een ongekend volume en body aan je haar.
De Bumble and bumble Prêt-à-Powder Droogshampoo is een 2 in 1 product, het geeft veel volume en reinigt het haar tegelijk. De droogshampoo bevat Franse roze klei wat transpiratie en talg absorbeert. De Bumble and bumble Prêt-à-Powder Droogshampoo laat geen witte waas achter maar wel licht geparfumeerde lokken. Daarnaast heeft de droogshampoo een Uv-filter waardoor het haar beschermt wordt tegen het uitdrogende effect van de zon. Bumble and bumble is een merk dat niet op dieren is getest. Ook zijn de producten vrij van parabenen en minerale oliën.
- Thickening spray
Een thickening spray legt een dun laagje om het haar heen waardoor iedere haar dikker aanvoelt. Je sprayt het product in gewassen en handdoekdroog haar. Daarna kam je het door en style je het op de manier zoals jij dat wilt. Bij kort haar zie je meer resultaat van een thickening spray dan bij lang haar, omdat lang haar zwaarder is en dus minder luchtig valt.
De Joico Structure Boost Thickening Spray is een lichtgewicht haarspray die het haar verdikt en zorgt voor een vollere coupe! De diameter van het haar wordt verdikt, dit geeft optisch meer volume zonder het te verzwaren. Daarnaast geeft de haarspray een medium hold en een natuurlijke glans als finish.
- Haarlak
Na het föhnen of stylen van je haar kan het prettig zijn om het haar te fixeren met een haarlak zodat het goed blijft zitten. Kies dan voor een lichte variant die niet nat sprayt. Door een te natte haarlak te gebruiken ben je direct je volume kwijt en plakken haren aan elkaar vast waardoor futloos haar verzwaard wordt.
De L'Anza Healing Volume Final Effects haarlak is een finishspray voor maximale versteviging en volume. Verrijkt met panthenol, een natuurlijke haarverdikker en bodybuilder. De haarlak geeft maximale houdbaarheid van het volume om je haar te beschermen tegen de wet van de zwaartekracht.
- Krultang
Krullen of golven in futloos haar zorgen voor meer body en volume. Hiervoor is een krultang die in temperatuur verstelbaar is de juiste keuze. Fijn haar heeft immers minder hitte nodig om te krullen dan dik haar. Borstel na het zetten van de krullen het haar voorzichtig door.
Met de Max Pro Twist krultang breng je super eenvoudig stralende, grove krullen aan dankzij de keramische tourmaline platen én heb je volledige controle over de naar wens in te stellen temperatuur! De krultang beschikt over een keramische staaf met tourmaline technologie, hierdoor blijft je haar optimaal in conditie tijdens het aanbrengen van een schitterende bos met stralende krullen! De staaf heeft een diameter van 25 of 32 mm waarmee je eenvoudig en snel krullen aanbrengt, bovendien kun je hem ook in het buitenland gebruiken dankzij het dubbele voltage.
- Borstel
Wanneer je dun of fijn haar hebt is het fijn om jouw haar te borstelen met een borstel gemaakt van natuurlijk zwijnenhaar. Zwijnenhaar is 100% natuurlijk en ideaal om fijn maar ook kort haar mee te borstelen. Dit komt omdat de meeste zwijnenhaar borstels een hoge dichtheid van stevige, flexibele haartjes hebben en je dus veel grip op het haar houdt. Bovendien sluit zwijnenhaar de haarschubben, waardoor de vochtbalans in futloos haar behouden blijft en je haar zacht en glanzend wordt.

Als je echt op zoek bent naar het beste van het beste op het gebied van haarverzorging, dan móet je de befaamde borstels van Mason Pearson geprobeerd hebben. De Mason Pearson B3 of B4 zijn pneumatische, ovalen borstels met een zeer soepel kussen. Deze bijzondere haarborstels bestaan uit puur zwijnenhaar, voor de meest comfortabele en soepele borstelervaring! Dankzij de zachte zwijnenharen zijn deze borstels bij uitstek geschikt voor fijn tot normaal haar. Dé keuze om haarverlies tot een minimum te beperken en comfortabeler dan ooit te borstelen.
Heb je na het lezen van de blog nog vragen over methoden om meer volume in futloos haar te creëren? Lees dan deze blog.