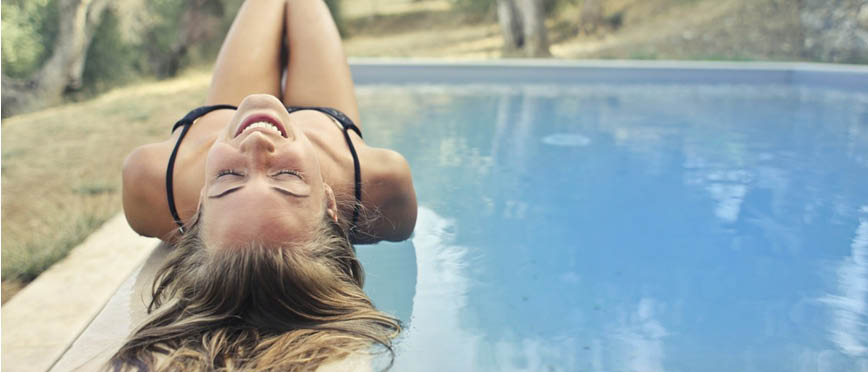 We zitten vol op in de zomervakanties! En nu veel mensen niet op vakantie gaan naar een tropische bestemming, zijn we snel geneigd om de extra bescherming voor het haar te vergeten. In dit blog geef ik je uitleg en tips over hoe je je ook tegen onze Nederlandse zon kunt beschermen!
Wat zijn de gevolgen van de zon voor je haar?
Hoe bescherm je je haar tegen de zon?
Hoe herstel je het haar na uitdroging door de zon?
Hoe verzorg je je hoofdhuid wanneer deze verbrand is door de zon?
1.Wat zijn de gevolgen van de zon voor je haar?
De schade die UV-straling kan aanrichten voor het haar is groter dan je in eerste instantie zal verwachten. UV-straling draagt namelijk bij aan het verlies van keratine (waar je haar uit is opgebouwd), waardoor je haar elasticiteit en structuur verliest, en daardoor breekbaarder en zwakker wordt. Daarnaast bestaat de straling uit vrije radicalen, dat zijn stoffen die processen in de cellen van je haar kunnen verstoren.
Pigment in het haar, wat melanine wordt genoemd, helpt het haar beschermen tegen de invloeden die schadelijk zijn voor het haar. Dit komt omdat melanine de UV-straling absorbeert en filtert, waardoor bijvoorbeeld vrije radicalen de keratine niet zodanig kunnen aantasten dat het niet meer te herstellen is. Maar melanine kan niet alle schade voorkomen. Daarnaast zal je zien dat wanneer je het haar niet extra beschermt, je de pigmenten in het haar gaat opofferen. Dat merk je dan aan de kleur die fletser en lichter zal worden, en de glans die afneemt.
Ook droogt de zon het haar erg uit. Tijdens een dagje zonnen transpireer je natuurlijk veel, en ook op je hoofdhuid. Het zoutgehalte kan ervoor zorgen dat het vocht in je haar wordt onttrokken en hierdoor uitdroogt. Ook chloorwater draagt bij aan droge lengten en punten, dit komt weer doordat de hoofdhuid de beschermlaag (talg) verliest omdat chloor een agressieve reiniging heeft.
2.Hoe bescherm je je haar tegen de zon?
Vermijd chemische behandelingen zoals highlights of blonderen.
Tijdens extreem chemische behandelingen zoals highlights of blonderen krijgt je haar het zwaar te verduren. Je haar kan behoorlijk beschadigen en wordt vaak droog en dof. In normale omstandigheden is dit meestal geen probleem, en herstelt het haar vrij vlot weer, maar in de zomer is beschadigd haar erg slecht bestand tegen de zon, zout en chloor omdat de keratine in het haar te weinig aanwezig is.
Spoel je haar vóór en ná het zwemmen met kraanwater.
Wanneer je een duik wilt nemen, zorg dan dat je eerst je haar goed nat maakt met kraanwater. Doordat je haar het 'schone' water opneemt, slagen zout, chloor en mineralen er minder goed in om je haar binnen te dringen.
Helaas gaan deze stoffen tijdens het zwemmen alsnog in je haren zitten, daarom is het goed om je haar na het zwemmen ook uit te spoelen met water.
Gebruik haarproducten die speciale bescherming bieden tegen de zon, zout en chloor.
Door de schade die de zon kan aanrichten op je haar is het in de zomerperiode belangrijk dat je je haar extra verzorgt maar ook beschermt, omdat voorkomen beter is dan genezen. Dit kun je doen met speciale shampoos, conditioners, haarmaskers, leave-in conditioners en leave-in sprays speciaal ontwikkeld voor de zomer.
Schwarzkopf BC Bonacure Sun Protect
De nieuwe Schwarzkopf BC Sun Protect zal je beste maatje worden deze zomer door je te helpen je zomergloed te behouden! Het beschermt, reinigt en verzorgt het haar voor en na het zonnen door een beschermend schild te vormen en kleurvervaging te voorkomen. BC Sun Protect verwijdert ook zeezout en onzuiverheden, terwijl het je zonnebeschadigde lokken herstelt en opnieuw mooi maakt. De formule, met UVA/UVB filter, Buriti Olie (essentiële vetten en vitamines die gewonnen wordt uit kostbaar fruit van de levensboom die in en bij het moeras van de Amazoneregio groeit) en Zee algenextract, voedt, beschermt en verzorgt beschadigd haar.
3.Hoe herstel je het haar na uitdroging door de zon?
Wanneer je je haar tijdens het zonnen niet goed beschermd hebt is het erg belangrijk dat je het haar weer gaat herstellen van de schade die het geleden heeft. Het is belangrijk dat je je haar dan weer een verse start geeft. Laat je haarpuntjes afknippen en ga je haar intensief verzorgen en voeden. Het beste resultaat geeft een haarmasker/treatment.
4.Hoe verzorg je je hoofdhuid wanneer deze verbrand is door de zon?
Verbranden door de zon gebeurt sneller dan je denkt. Eén van de symptomen die als eerste optreedt bij zonnebrand is een rode hoofdhuid. Wanneer je verbrand bent kan dit nog 24 uur lang door blijven ontwikkelen. De factoren kunnen in verschillende combinaties of apart van elkaar optreden. Uiteraard is voorkomen beter dan genezen, maar als het dan toch te laat is dan geef ik je graag tips zodat je de verbrande hoofdhuid kunt kalmeren, hydrateren en herstellen.
Drink voldoende water.
Hydrateer je huid door voldoende water te drinken.
Prik blaren of blaasjes niet open!
Wanneer je zodanig verband bent dat er blaren of blaasjes zijn ontstaan, prik deze dan niet open. Zo vermijd je dat er vuil in komt en er infecties optreden.
Neem pijnstilling in als het echt niet gaat.
Je mag best een paracetamol nemen om de pijn van de verbrande hoofdhuid te verzachten.
Gebruik een kalmerend haarmasker.
Wanneer je de hoofdhuid hebt verbrand kan dit erg pijnlijk zijn en je kunt je hier ook niet lekker door voelen. Het enige wat je hoofdhuid dan nodig heeft is verzorging en hydratatie. De beste keuze om je hoofdhuid te kalmeren en de jeuk te verlichten is het volgende product:
Wella SP Care Balance Scalp Mask
Wella SP Balance Scalp Mask is een haarmasker dat uitermate geschikt is voor mensen met een gevoelige hoofdhuid of een verbrande hoofdhuid. Het masker heeft een intensieve en kalmerende werking die jeuk op de hoofdhuid verlicht. Tevens beschermt het masker de natuurlijke beschermlaag van de hoofdhuid. Voor het beste resultaat het haar eerst wassen met de Wella SP Balance Scalp Shampoo. Het masker is dermatologisch getest.
Is je huid zodanig verbrand dat niets van deze tips helpt, of je twijfelt wat je moet doen raadpleeg dan altijd de huisarts! Heb je na het lezen van dit blog nog vragen? Stel ze gerust aan onze vakspecialisten van de klantenservice via info@haarshop.nl
Lees meer »