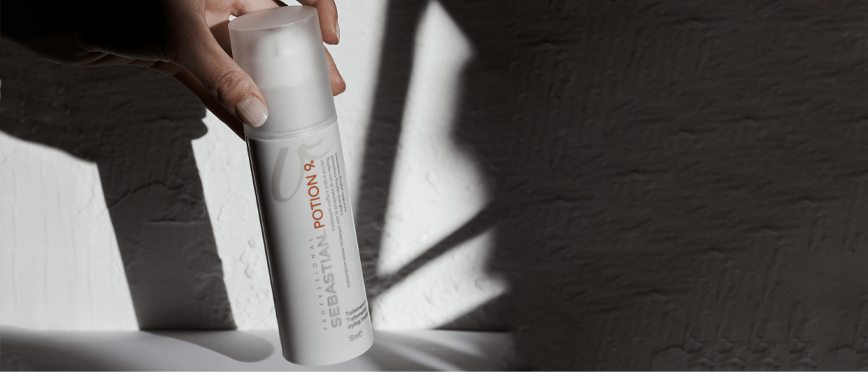 Herken je dat? Tientallen haarproducten op de plank en nog steeds niet de perfecte combinatie? Je bent opzoek naar styling en verzorging voor je haar, maar wil niet altijd moeten kiezen? Droog en beschadigd haar komt steeds meer voor door alle stylingstools en invloeden van buitenaf. Dus dat we opzoek zijn naar de perfecte combinatie om onze droge en beschadigde haren te temmen is niet zo gek, maar hoe kunnen we dit doen zonder de hele badkamer vol te hebben staan met verschillende verzorging en stylingproducten? Sebastian Professional heeft de oplossing!
Sebastian Professional Potion 9
Don't look any further, de Hybrid genaamd Potion 9 van Sebastian professionals got it al! Met POTION 9 heeft het merk een originele categorie voor de haarindustrie gecreëerd: een hybride product die zowel verzorging en styling bevat. Met wel 80% verzorging en 20% styling heb je aan deze tropische cocktail alles wat je zoekt in één product. Met die reden is het één van de meest geliefde producten, zowel in salons als thuis.
Hoe ontstaat zo'n iconisch product?
In 1990, toen John Sebastian en Geri Cusenza een reis maakten naar het Amazone-regenwoud, ontdekten ze onbekende planten. Ze namen samples mee naar huis en werden zo geïnspireerd om een baanbrekende formule te creëren: een magische crème-gel doordrenkt met hernieuwbare en duurzame botanische extracten. En zo werd het icoon in het Sebastian portfolio geboren: POTION 9.

9 Botanische oliën
9 staat voor de 9 Botanische oliën die toegevoegd zijn aan deze cocktail wat zorgt voor de perfecte combinatie van verzorging en styling. Actieve plantaardige oliën herstellen namelijk de natuurlijke conditie van het haar, terwijl de cocktail van het beschermende middel de beheersbare styling verbetert, waardoor het haar een hernieuwde glans krijgt.
Sesamolie voedt het haar intensief.

Olijfolie geeft het haar glans.
Groene thee extract verzacht het haar.
Saffloerolie helpt het haar zacht te houden.
Jojoba-olie versterkt het haar.
Teunisbloem extract versterkt het haar.
Rijstolie beschermt tegen haarschade.
Wilgenschors extract hydrateert het haar.
Babassu-olie helpt beschadigd haar te herstellen.
Kortom: Een draagbare stylingbehandeling om de natuurlijke conditie van het haar te herstellen, te beschermen, de handelbaarheid te verbeteren en de glans te vernieuwen.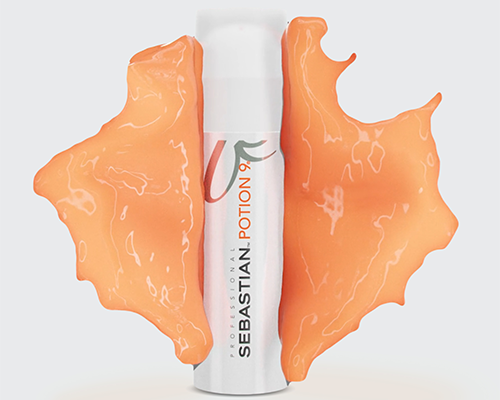 How to: aan de slag met Potion 9
Hoe kunnen we dit magische product dan het beste gebruiken? Je kunt het product op zowel droog als op vochtig haar gebruiken. Beide geven een ander resultaat. Wees niet bang om te mixen en matchen met de POTION 9. Dit product kan namelijk met alle producten van Sebastian Professional gecombineerd worden.
Op vochtig haar
Breng aan op vochtig- of handdoekdroog haar aan. Je kunt het haar droog föhnen of aan de lucht laten drogen. In beide gevallen is het resultaat een zijdezachte tastbare look. Nog niet tevreden? Gebruik dan een stylingtool om de look af te maken.
Op droog haar
Wil je meer textuur en controle toevoegen? Breng het product dan aan op droog haar en tada! Meer controle voor de lokken.
Heb je meer inspiratie nodig? Kijk dan dit filmpje!
Persoonlijk advies over het gebruik van producten?
Het kan zijn dat een product niet prettig werkt in combinatie met jouw haartype. Probeer daarom gewoon uit wat voor jou het beste werkt. Wil je persoonlijk advies of tips om over het gebruik van haarproducten? Neem dan gerust contact op met onze klantenservice via 026-3210966 of via klantenservice@haarshop.nl.